(CNN) — While skiers anticipate snow the way kids wait for Santa Claus, for those who find the idea of strapping on boots and skis as appealing as a root canal, there's no need to hibernate when snow flakes start to fly.
There are plenty of nippy alternative outdoor adventures to choose from: ice fishing in Quebec, zip-lining in New Hampshire's snowy White Mountains and ice sculpting in Sweden are just a few of the winter wonderland options.
The following 10 hotels present a range of frost-filled fun.
Snow biking at HUUS Hotel, Gstaad, Switzerland
If you can ride a bike, you can ride a bike in the snow, no training wheels required. The bikes, known as fat bikes, are fitted with extra-wide, oversized tires and modified frames to give added stability and traction to grip deep snowpack.
It's an exhilarating adventure amid chic Gstaad, a stomping ground for billionaires. The striking Swiss mountain scenery wows even the jaded celebrities who vacation here. The town hosts an annual snow biking festival, making it an optimal place to give the sport a try.
You can take snow biking lessons at the HUUS Hotel, which is built in the classic chalet-style, with an eye towards sustainability. A venerable tradition of hospitality permeates the Swiss Alps and HUUS exemplifies this.
Biking and most winter activities are included in the hotel's room rate, a rare deal in this pricey town.
HUUS
, Schönriedstrasse 74, 3792 Saanen-Gstaad, Switzerland; +41 33 748 04 04
Skijoring at Triple Creek Ranch, Darby, Montana
A mounted horse pulls the cross-country skier through forest trails and snow-filled meadows in skijoring, the newest cold-weather diversion at Montana's Triple Creek Ranch.
Being pulled by a stallion at breakneck speed has a certain Evel Knievel appeal to satisfy adrenaline junkies.
After all that excitement, guests can relax at the ranch, a rustically elegant, all-inclusive resort in the Bitterroot Mountains. The untamed Montana wilderness offers guests a complete communion with nature and an authentic Western experience.
Each of the 25 private guest cabins has the upscale amenities expected at a Relais & Châteaux property, including a wood-burning fireplace and art from the property's private collection. Most cabins have an alfresco hot tub.
With an abundant annual snow, the ranch exploits the powdery windfall by offering a range of tamer winter activities, including cross-country skiing along the Continental Divide.
Skijoring is a wild combined sport involving elements of skiing and horse riding. Skiers hold on to ropes and are dragged by horses through courses.
Zip lining at Omni Mount Washington Resort, Bretton Woods, New Hampshire
Zipping across a series of suspended cables from snow-dusted treetop to treetop is thrilling for adventurous travelers. For those who are at home in a polar vortex, winter zip lining in New Hampshire's White Mountains is a bracing option.
The Omni Mount Washington Resort exudes grandeur. For guests looking for a more intimate experience, the Omni Bretton Arms Inn is just steps away, while those seeking more spacious digs may reserve a roomy townhouse. They are all located next to Bretton Woods, the state's largest ski area.
Bretton Woods offers a canopy tour that's a vertigo-inducing zinger. Hardcore winter fanatics zoom across nine cable zip lines that vary in length and height, with bird's-eye views of Rosebrook Canyon and the ancient hemlock forest.
Before the three-hour tour starts, participants take a required safety lesson and are outfitted with a harness and helmet. Guides are present for the entire aerial adventure, spicing up the tour with tidbits of local lore and facts about the native flora and fauna.
Ice fishing at Manoir Hovey, North Hatley, Quebec
Manoir Hovey
As the fishing pole descends beneath the ice, get ready to a battle a freshwater trout beneath the glassy surface. With subzero winter temperatures the norm, frigid Quebec is the place to try ice fishing. Just be careful not to get frostbite.
Nestled amidst rolling farmland and a dense birch forest, Manoir Hovey is an intimate hideaway. It enjoys a scenic position on the shores of narrow Lake Massawippi.
Most of the 37 rooms and suites have fireplaces and lake views. Décor is fresh and uncluttered.
Each Saturday, the hotel invites a local fishing guide to lead a complimentary ice-fishing lesson. Freshly made pizza served at the frozen lake warms guests up.
At the hotel's award-winning Le Hatley Restaurant, the chef whips up an ambitious menu that celebrates Quebec's agricultural abundance. Duck and venison are specialties. The palate-pleasing cheese cart is famed throughout the province.
Manoir Hovey
, 575 Rue Hovey, North Hatley, Quebec JOB 2C0, Canada; 800-661-2421 or 819-842-2421
Curling at The Gwen, Chicago, Illinois
Curling is an Olympic winter sport where teams of players take turns sliding heavy stones across the ice towards circular targets, and it can now be found on Chicago's Magnificent Mile.
The city's harsh temperatures and legendary winds blowing off Lake Michigan are perfect for the spot, as is a stay at the glamorous Gwen, which recently unveiled its new iceless curling rink. Named after Art Deco sculptor and Chicagoan Gwen Lux, her mythological stone bas-relief sculptures appear on the historic building's façade. Her work inspires the property's art collection and refined décor.
The Gwen commissioned its new rink with the assistance of Chicago's Windy City Curling Club. Located on the hotel's outdoor terrace, heat lamps and fireplaces keep guests warm. The rink's $25 price tag includes a warm winter cocktail.
The Gwen
, 521 North Rush Street, Chicago, IL 60611; +1 312 645-1500
Ice skating at Mirror Lake Inn Resort & Spa, Lake Placid, New York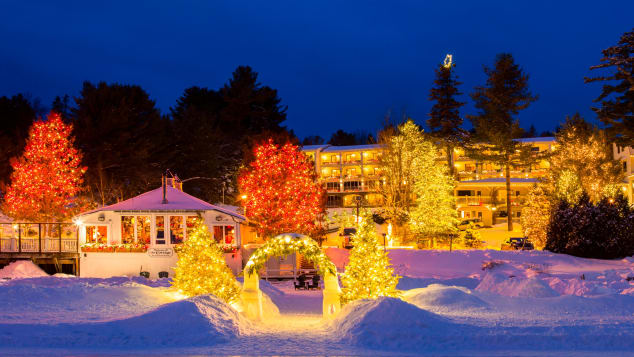 Mirror Lake Inn Resort and Spa
For those who have only skated on man-made ice rinks, gliding — or slipping — on a natural frozen lake surrounded by pine trees and high peaks is a way to bond with Mother Nature.
The Adirondacks are home to hundreds of picturesque lakes, but Mirror Lake distinguishes itself from the pack with its sublime Alpine beauty. The town meticulously grooms the lake, so the skating is as smooth as silk.
Mirror Lake Inn is located across the street from the lake. Guests of the hotel are in gold medal position to slide around the shimmering surface. Family-owned since the 1920s, it's a welcoming property with a traditional Currier & Ives feel. Rooms, some with fireplaces and lake views, are loaded with low-key charm. The inn is noted for its unpretentious, cold-weather cuisine, including Yankee Pot Roast and potato gnocchi with roasted winter squash.
Mirror Lake Inn's connection to winter sports runs deep. Owners Ed and Lisa Weibrecht's son Andrew is a two-time Olympic Medalist in downhill skiing, and his silver and bronze medals are proudly displayed at the front desk.
Snowshoeing at Blantyre, Lenox, Massachusetts
Walking with racquet-like snowshoes over a blanket of freshly fallen snow feels like strolling on a crunchy cloud.
The Berkshires have been a favorite getaway of well-heeled urbanites for generations. The vibrant art scene is matched by an array of recreational options, as locals have long considered winter sports to be an integral part of a robust constitution.
Blantyre is a romantic country house-style hotel that looks like a castle. Crackling fires, a candelabra, stained glass windows and fresh floral arrangements are part of the hotel's dignified décor.
Guest rooms are exquisitely appointed with great attention to detail. Antique furniture, marble-topped tables and old-fashioned soaking tubs are the rule.
When a flurry of fluffy white covers the rambling grounds, guests borrow snowshoes and poles to explore this chilly Shangri-La of snow-kissed meadows and forest trails.
A twilight journey on snowshoes is an immersion in tranquility, eventually broken by the sound of live piano music coming from the parlor, letting guests know the cocktail hour has arrived.
Blantyre,
16 Blantyre Road, Lenox, MA 01240; +1 844-881-0104
Ice sculpting at the Icehotel, Jukkasjärvi, Sweden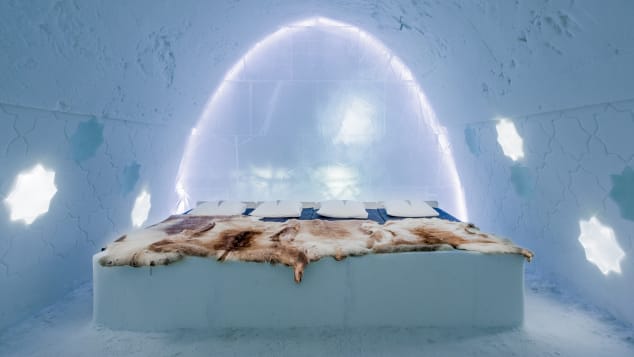 Sahand Hesamiyan/Mona Hosseini/Asaf Kliger/Icehotel
Swedish Lapland north of the Arctic Circle is as frosty as an icebox, making the Icehotel a suitable spot to try ice sculpting. It requires precision and artistry to chip away at a big ice cube and create something visually interesting.
Each winter, the abundant supply of ice and snow is used to construct a seasonal ice hotel that doubles as a functional work of art. A select group of artists create the hand-sculpted art, using ice and snow as their medium.
Guests may make a grand entrance and arrive via dog sled.  Once there, they may take an introductory class where guests learn the basic use of tools before they chisel away on an individual frozen block.
In summer, the hotel melts away and the water returns to its source, the Torne River.
A permanent hotel has recently opened, so visitors may now spend the night year-round. The deluxe rooms have both heated stone floors and sauna, adding warmth and coziness.
Fans of the sangfroid antics of Cersei and the other characters on "Game of Thrones" should visit the Lapland Hotels Snow Village, where rooms feature ice sculptures related to the popular television series.
Icehotel,
Marknadsvägen 63, Jukkasjärvi, Sweden; +46 739-23 27 25
Dogsledding at Wintergreen Dogsled Lodge, Ely, Minnesota
Bundle up and learn to drive a team of Canadian Eskimo dogs over ice and snow.
Wintergreen is a family-run lodge devoted exclusively to dog sledding. Located in a remote corner of Minnesota, it's a gateway to the staggeringly beautiful
Boundary Waters Canoe Area Wilderness
.
Overnight visitors stay in lakeshore lodges connected by miles of dogsled trails. The simple accommodations feature fireplaces and featherbeds topped with Hudson Bay blankets.
A communal wood-fired Finnish sauna allows guests to steam and sweat after a day in the snow. Meals are served family-style, with guests and guides dining together on hearty comfort food.
Wintergreen's experiential dogsled vacations are suitable for all ages, including children. The 60 resident pups are handsome animals who seem genuinely excited to pull. Guests learn to drive their own team of dogs, with plenty of opportunities to feed and care for these affectionate animals.
Sledding at Adler Mountain Lodge, Alpe di Siusi, Italy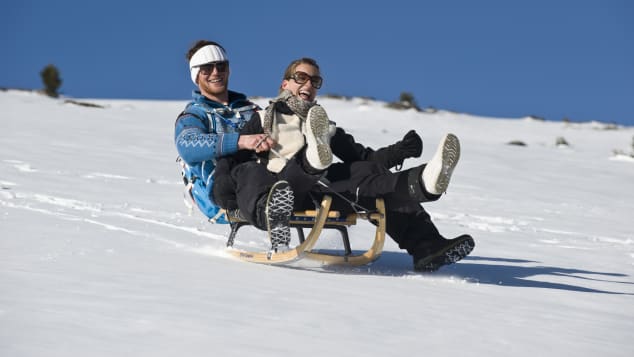 Adler Mountain Lodge
For those who adhere to a "less is more" philosophy, a ride on a simple wooden sled allows the opportunity to soak in the landscape in a low-tech manner.
Northern Italy's Dolomites are a UNESCO World Heritage Site recognized for their natural beauty so expect plenty of glistening eye-candy to breeze by. It's a paradise for winter sports enthusiasts.
At the Adler Mountain Lodge, the main lodge and dozen Tyrolean Mountain huts look like Heidi's house.
The resort's kitchen takes pride in its menu, reflecting the straightforward Alpine delicacies of the South Tyrol merged with sophisticated Italian technique.
The hotel presents guests with a variety of sports in a pristine setting. Weekly guided sled tours are an option though many prefer to slide independently.