25 Things to Do in Amsterdam with Kids
If you haven't considered the family vacation potential of forward-thinking Amsterdam, it's time to start. This walkable European city where nearly everyone speaks English, offers great things to do for the young and old alike.
Some come for the artistic treasures, from Rembrandt to Van Gogh, while others head to its notorious Red Light District where pot and prostitution are on offer for all to see. But with its hands-on museums, scenic canals, food staples like pancakes and easy cycling, it's a mecca for families, too. Amsterdam is full of atmosphere, so leave plenty of time on the schedule for aimless strolling as the kids and you try to soak it all in.
Whether you're looking for a last-minute winter weekend getaway or planning ahead to this summer, check our travel site for more family vacation ideas. Sticking closer to home? We have a few recommendations for U.S. travel, too.
Attractions

You're never too young for a little Van Gogh! Amsterdam is loaded with impressive museums like the Van Gogh Museum, showing off Dutch talent. Photo courtesy the museum. 
1.  Nemo Science Center — One of the best interactive science museums, kids don mini lab coats and safety goggles before they get to work on experiments. Teens have their own exhibit that delves into puberty and its effects on the brain.
2. Anne Frank House — This is the actual building where Anne Frank and her family hid during World War II. Anne wrote her famous diary here and personal photos and artifacts abound. The narrow stairways and complex subject matter may not be appropriate for young kids, but most kids 10 and older will be deeply moved.
3. Artis Royal Zoo — This zoo may not be the world's largest, but it is among the prettiest, set in a park surrounded by mature trees and plants. There's a Butterfly Pavilion, giraffes, zebras, wildebeests, an aquarium and even a planetarium. It's next door to Micropia (No. 7), so hit both in one afternoon.
RELATED: 25 Warm Weather Family Vacation Destinations
The next three museums are located on Museumplein, just steps from each other.
4. Rijksmuseum — Famous for the works of Dutch masters like Rembrandt and Vermeer, the huge collection includes fabulous dollhouses, suits of armor and giant models of Dutch trading ships. Weekend tours for families in English and a special family room where kids may draw, relax and eat are welcoming touches.
5. Stedeljik Museum — This museum of modern art and design is full of whimsical works with kid-appeal. The newly renovated Family Lab encourages kids and their parents to create bold artwork using high-quality materials with or without the help of art educators.
6. Van Gogh Museum — This is the world's largest trove of Van Gogh's impressionist paintings. It engages kids with a family guide, treasure hunt and hands-on activities. Weekend programming includes art workshops for an additional fee.
7. Micropia — Get acquainted with the miniscule microbe at this innovative new museum. The Kiss-o-Meter tells how microbes are transferred during a smooch and the space-age body scanner shows all the microbes presently on your body. Some kids will love the gross-factor of the petri dishes oozing with bacteria and animal feces. You'll leave looking at bacteria in a whole different light.
8. The Eye Film Museum — Traveling to this futuristic looking museum, which was recently re-located to an island, is half the fun. Catch the free ferry from the central train station and in five minutes you'll arrive. Take in striking views of Amsterdam before headding downstairs to Panorama where kids can act in a movie and learn about green screens. Admission to Panorama is free.
9. National Maritime Museum — Explore 500 years of Dutch maritime history with exhibits that simulate the tribulations of life at sea, including through video games and plays. The Tale of the Whale exhibit is a must for kids who will be awed by this mighty creature, and don't miss the tour of an 18th century replica ship.
10. Amsterdam Museum — Curious to know how Amsterdam got to be the way it is? Dive into this city's complex history where teens can learn how and why it enacted some of the most liberal drug laws in the world. Younger kids will enjoy playing in the Little Orphanage, simulating life in a 17th century orphanage.
RELATED: Water Parks and Theme Park Guide for Families
Outdoor Amsterdam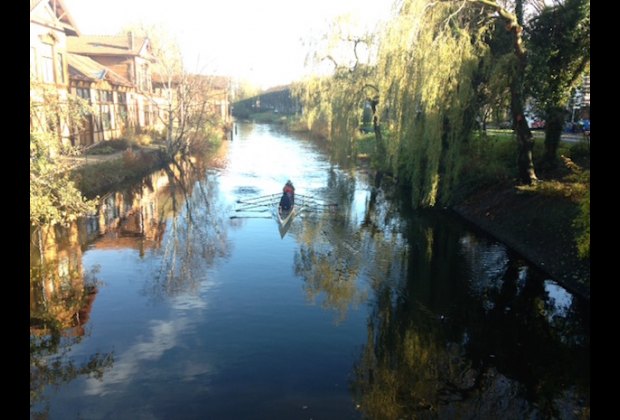 Water is everywhere in this European city. Hop a canal ride or stroll alongside. Photo by author.
11. Ride a canal boat — Bathed by a ring of 165 canals, a boat ride is an entertaining way to view this city. There are numerous companies offering one-hour rides with English commentary. Most are located just across from the main train station.
12. Cycle — Bikes are the default mode of transportation in compact Amsterdam, pedaled by tots and grannies and everyone in between. Very young kids ride in barrow-like carts called bakfiets. There are hundreds of miles of flat, designated bike paths. Renting bikes is as easy as buying milk, so consider going for a spin.
13. Vondelpark — This sprawling green expanse is where residents come to sunbathe, rollerblade and relax. Catch a free concert before you hit the super cool climbing playground.
14. Friday night skate — Thousands of skaters of all shapes and sizes meet in Vondelpark each Friday at 8:30pm and skate all over the city in a big group. Join or just watch this fabulous weekly event.
15. Flower market —  Amsterdam's daily floating flower market is a showstopper. The flowers are displayed on floating barges, a feast for the eyes and nose.
16. The Albert Cuypmarkt — This is one of Europe's biggest outdoor markets. Each Tuesday-Saturday, hundreds of stalls sell everything from fresh produce to used clothing. When hunger strikes, this is a good place to try regional specialties like raw herring, broodjes (Dutch sandwiches) or a warm waffle.
17. Ice skate — The city's famous canals rarely freeze anymore, but head to the rink at Museumplein, appropriately named Ice. Rent skates and glide with the stately Rijksmuseum as your scenic backdrop.
18. Mirandabad swimming pool — This swimming pool complex offers several indoor and outdoor pools, a wave machine and a solarium.
Where to Stay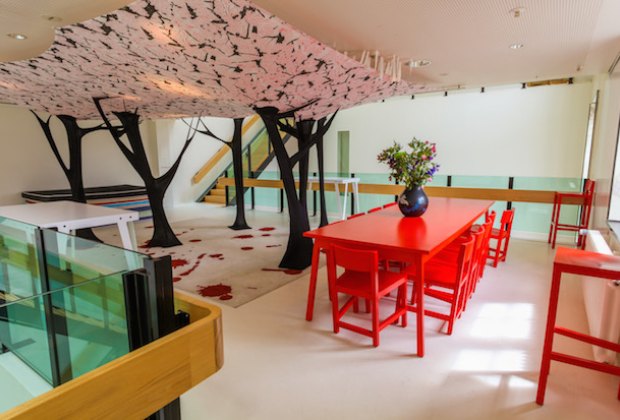 The stunning Lloyd Hotel offers outdoor play areas and low-tech toys for kids. Photo by author.
19. Lloyd Hotel — Located in the residential Eastern Docklands neighborhood, the Lloyd is just a few minutes from the city center. Nestled within a small park, kids have quick access to the outdoor play area. Inside, the gallery-like common spaces offer games, books, toys, puzzles and assorted low-tech toys to encourage creative play. Each of the 117 rooms is unique and accented with innovative Dutch designs. Quirkier rooms have swings or a giant bed that sleeps seven. A democratic feature is that the rooms range from one to five stars, all under the same roof. The goal is for visitors of a variety of economic means to connect and share experiences.
20. Sleep on a houseboat —  Water is one of this city's defining characteristics, so consider sleeping on a houseboat. The Amstel Botel is a floating hotel with competitive rates.
21. The Dylan — If your family likes to be pampered, you'll be treated like royals at this posh boutique hotel. Children have a separate check-in, even receiving their own fake key card. The doting concierge is happy to provide a tailor-made itinerary.
Where to Eat
22. Food Tour — Get the inside scoop on Amsterdam's food scene when you book a guided food tour with Hungry Birds. Intimate groups will scour the city on a quest for edible treats. It's stroller-friendly and children under six are free.
23. Kam Yin — Adventurous foodies won't want to miss sampling the food of Suriname. This South American country was formerly a Dutch colony. Granted independence in 1975, half of its eclectic population migrated to Holland, bringing with them their intriguing multicultural cuisine. A good place to sample Surinamese cooking is Kam Yin, located near the train station. The esthetic may be bare bones, but the food is tip-top, with huge portions and very low prices. If your family likes Chinese or Indian food, your mouths will be watering over the noodle soups, mild curries, roti bread and fried rice.
24. Da Pannekoekenhuis — Fluffy Dutch pancakes are a popular snack in Amsterdam. Traditionally served with butter and powdered sugar, Da Pannekoekenhuis in the city center has 70 varieties to choose from!
25. De Kaaskamer — Dutch dairy products are justifiably famous and the cheeses are superb. Purchase delectable Edam and Gouda at this gourmet cheese shop, or book an inexpensive tasting.
Visit the city's official tourism site for even more ideas: www.iamsterdam.com.
Top photo: Cycling through Amsterdam is a must-do for locals and tourists. Photo provided courtesy I Amsterdam.